Lighthouse recently held its eighth-annual Illuminations Panel event during Legaltech New York. In the panel entitled, Emerging Data Sources: How to Address Collaboration Tools, Chat/IM, and Mobile Data Sources in eDiscovery, an all-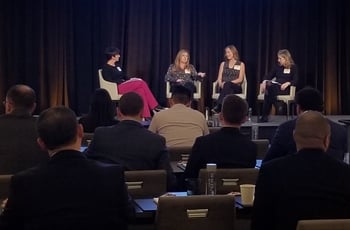 female group of leading industry experts discussed today's data sources, the top challenges surrounding them, and solutions for overcoming them. In this blog, I will highlight the key takeaways from this panel and share my own perspectives along the way…enjoy!
Did you get the message? Chat may be an easy means to communicate, but it's a pain in the $#% to discover!
Isn't it great that we have developers and engineers that can come up with so many creative ways for us to communicate and collaborate to be efficient in our business? YES….until Legal comes along and says, "So yeah, we're going to need to go ahead and collect that data."
Let's level set. I can easily have one conversation across many applications. It's how the world of communication works today. If I need to get in touch with someone I will email them, and, if I get no response, send a Skype message, make a phone call, and ultimately, shoot them a text message. Over a given day, I use many different methods to reach just one person. The more applications used in my (or anyone's) business means more data to assess and more data that is discoverable.
We are seeing a variety of emerging data sources being used today, most notably, chat platforms, such as, Bloomberg, Yammer, Skype, Teams, WhatsApp, Slack, and so on. There are so many tools, because they each have their own way of speaking to different industries and business units within a company. Different messaging platforms and/or collaboration tools are used depending on needs, and the use of a tool might differ depending on the user (i.e. engineers might utilize it differently than a project management group).
Company culture also drives the usage of these different applications. Some companies want the creative juices to flow with whatever collaboration tools work best for them, such as software start-ups. On the flip side, there are companies that are highly regulated and it takes an act of State to get new tools approved to meet legal, compliance, and privacy requirements. No matter what tools are used and why, they all share the common challenges of how to meet the business's need for increased collaboration and efficiency while managing downstream impact with compliance, privacy, and legal.
Below are three key challenges and solutions for addressing them: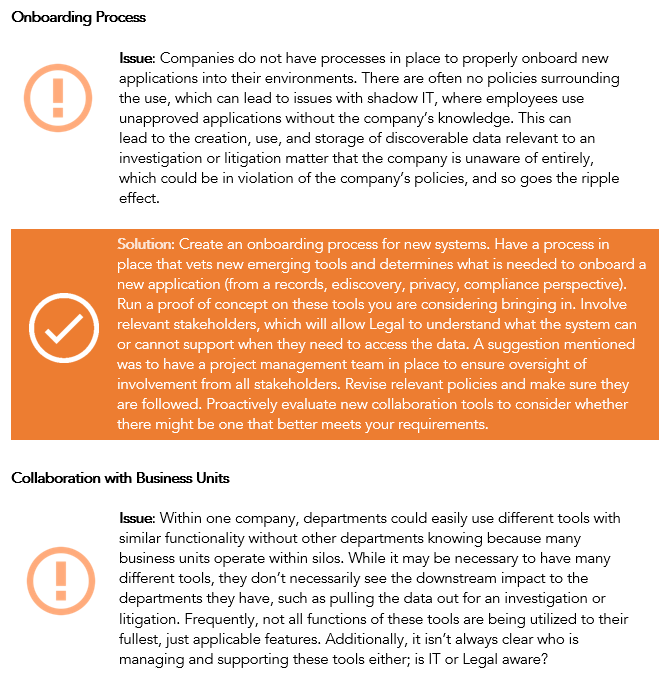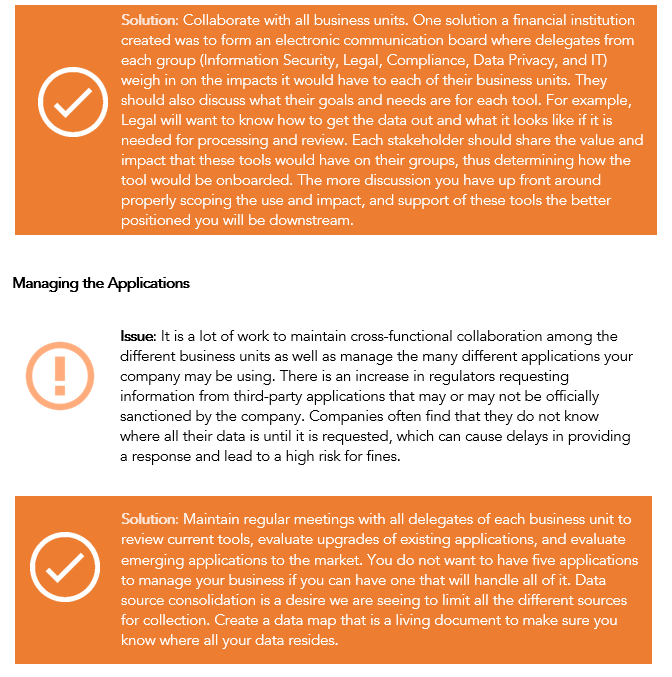 In Summary
It's a brave new world of discoverable communication. Keep focus on these key takeaways:
Collaborate with each business unit to evaluate chat tools necessary to conduct business.
Understand fully the impact and needs of these tools for each business unit.
Create a process to implement these tools with support from each business unit.
Map your data sources to be sure you understand exactly where your company's data exist at all times.
Develop policies to govern these tools. Make certain you follow these policies and keep them up-to-date.
Special thanks to our panelists for their valuable contribution:
If you would like to discuss this topic more, drop me a note at jharrison@lighthouseglobal.com.