Co-authored by Regina Chepalis
If you look at the current state of ediscovery and the effect it has on a corporation, you can't ignore the impact of rapid data growth, the growing complexity in managing that data, and the risks associated with having to be in a reactive incident response situation, rather than having a proactive business process around ediscovery.
Gartner's The State of E-Discovery in 2015 and Beyond, published in February 2015, identifies these risks as "triggering a new cycle of technology upgrades." However, it is so much more than just technology. Gartner accurately identifies and recommends that a short-term gap analysis is a critical step needed to bridge a reactionary approach when trying to create an ideal state of building processes and best practices for the entire ediscovery process.
The real question is:
Where are you today and what should your priorities be to get you to your ideal state?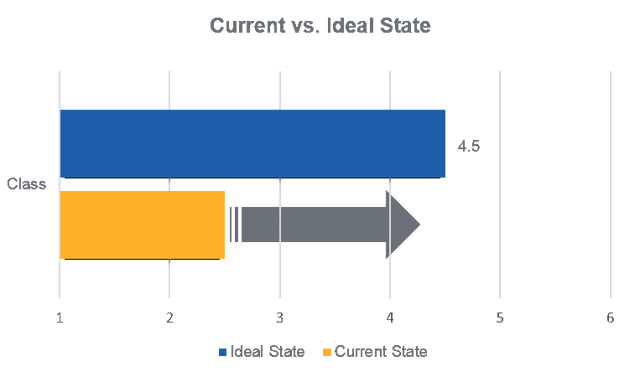 To create a long-term ediscovery strategy, corporations first need to look at where they are today. As companies move from being in an ediscovery incident response situation to treating ediscovery as a business process, they have common traits and appear to have worked through a similar path of success. A recent survey conducted by Lighthouse eDiscovery, categorized companies into five classes based on their business and litigation profile.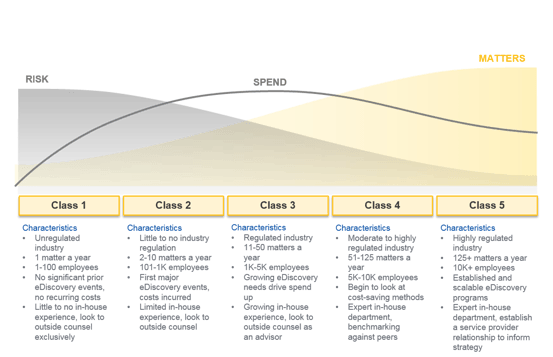 Once the companies were characterized, they were asked further questions so that our consultants could determine where they were in comparison to other companies in their class. As you will see in the graphic above, companies that had the characteristics of a class four or five had a much lower risk, and although their matters per year increased, their spend actually decreased.
The survey found that companies classified as a five, appeared to have more control of their data, customized workflows, and used technology to manage risk and costs. These companies took full advantage of processes and technology to maximize what data is actually promoted to a review platform, saving them both time and money.
As companies gain control of their ediscovery, it is clear that it becomes more than technology upgrades. They are building an ediscovery playbook, establishing data processing and production standards, and creating best practices around the use of technology, such as automated privilege logs, analytics, redaction tools and technology assisted review. These companies are doing more behind their firewall and with their ediscovery service provider to reduce the impact of data before it gets to the review stage.
Lighthouse is currently offering this survey to any corporations interested in assessing their eDiscovery program. To discover your class number or for more information, please contact info@lhediscovery.com.