Co-Authored by Gordon Calhoun and John Breen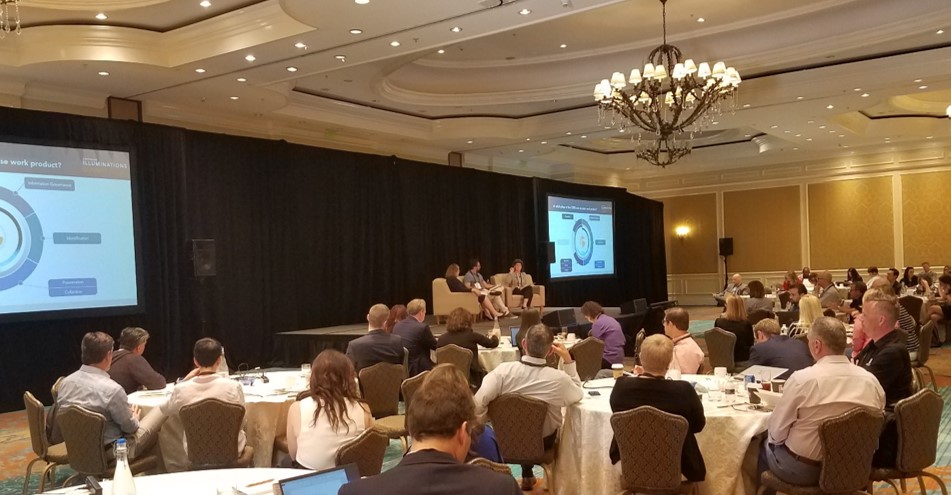 This past spring, we attended the 2019 Lighthouse Illuminations Summit in Miami and came away with several key reflections and discoveries, which are outlined below:
New Workplace Communication Formats - New communication formats and platforms continue to enter the market in response to user demand for functionality and convenience. This demand continues to create challenges for IT and ediscovery practitioners. IT teams are faced with challenges about what formats and platforms are being used, while also trying to balance security, defensibility, and utility. The process is dynamic and change management associated with adoption or toleration of new platforms should involve other silos in the corporate structure, particularly legal. For the ediscovery practitioner, it is not enough to rely on static data maps and an understanding of the data architecture as it existed when the last collection event occurred. Like IT, the ediscovery practitioner should have a finger on the pulse of how data is used and manipulated by client employees as well as update identification, preservation, and collection practices to account for changes in the information architecture. This requires an understanding of platforms like Slack, a recent IPO star, which presents itself as a leading candidate to replace email. Microsoft Teams and Facebook Workplace are other strong competitors, amongst others. The marketplace of communication systems will continue to evolve at an increasingly rapid pace, and ediscovery and information governance practitioners will need to account for these communication channels. Finally, ediscovery and information governance practitioners need to be aware of and address the difference between officially sanctioned tools, on the one hand, and the tools of shadow IT and other unsanctioned tools, on the other hand.
Ephemeral Communications - WhatsApp, WeChat, and other ephemeral communication applications are becoming more common. A question to be addressed is whether these should be treated as business records or like oral and telephonic communications. The fact that digital formats are involved is not a dispositive answer because some digital communications (e.g., telephonic communications) may not lawfully be preserved without the consent of at least one participant. Practitioners need to be aware of these platforms and the extent of their use, especially in jurisdictions where using these tools is the only method of secure communication (some regions of Asia and South America, for example). Also, privacy is becoming a prominent "feature" for Apple iOS and also for the contemplated revamp of Facebook. There may be some ability to collect this data from alternate sources, but it is highly dependent upon the application, devices, and environment. eDiscovery and information governance practitioners need to investigate and document custodian behavior as part of the custodian interview process to identify data sources and to document the reasonableness of their investigations. This investigation is particularly important given the changing nature of communication. Documenting the investigation and the reasonableness of the investigation will be critical to supporting the efforts taken by counsel and protecting the client against claims of data suppression or spoliation. Further, the investigation may also reveal new sources of data relevant to the case.
Data Re-use - Data re-use appears to be a coming feature, again. Data re-use holds the promise of reducing cost, promoting efficiency, and mitigating risk during ediscovery. Currently, re-use is often enabled and managed by an ediscovery technology provider because the providers have possession of the data in an organized format. Projections are that Office 365 could facilitate the ability to re-use data because it can be organized and queried within the Office 365 environment. In short, Office 365 provides the structure previously provided by the ediscovery vendor without the additional cost of collection, processing, analytics, and hosting. This is a critical difference from the last infatuation with data re-use because the promise was blunted by the cost of creating the "warehouse" to house and index the data for which re-use was anticipated. Office 365 eliminates the startup cost and the risk of incurring expense for a use that might not develop. Additionally, an enterprise will be able to identify custodians, worker jobs levels, data types, etc. that have never been produced in litigation or investigation, and will leverage that experience to exclude those data types from future productions. Similar functionality will also be applied to privilege review. But, where the data itself is not critical, as it is in cases involving mass torts and product defects, reuse should shift from the data itself to the knowledge acquired by AI applications to identify what is responsive in particular types of litigation. Common themes recognized by AI in repetitive types of litigation, like employment disputes, can be applied to data in disparate cases to move responsive data to the front of the review queue with minimal training of the algorithms by merits or review counsel.
Office 365 - The long rumored/feared entrance of Microsoft into the ediscovery world is now upon us. Office 365 is being adopted at impressive rates, and continues to grow by 35%+ per year. The future development of the tools may mean that an enterprise manages their data through Office 365, including for litigation purposes. Perhaps one day lawyers will tunnel into client Office 365 directly to cull, review, and produce data, thus eliminating the expense and time to collect and process data prior to review. Unfortunately, this deals only with the Microsoft environment which is becoming an increasingly smaller portion of potentially responsive data. The volume of social media communications exceeded the number of emails generated daily in 2009. The volume of image, audio, and video content in interpersonal communications exceeded the volume of interpersonal text communications sometime in 2015. The volume of IoT data which can speak volumes as to where individuals are, what they are doing and when, will soon challenge the volume of all the other data formats. So, corralling the business, text-based data in Office 365 and making it widely accessible, manageable, and understandable before it leaves its native environment will only bring order to an increasingly smaller portion of the potentially relevant data universe. That said, Office 365 is a game changer for ediscovery and information governance practitioners. Practitioners need to educate themselves on the potential and challenges of Office 365.
Crypto-Currencies and Blockchain - Bitcoin and blockchain are real, and blockchain technology, in particular, is being adopted in novel ways. Practitioners need to be aware of development in this space to serve clients, while recognizing the technology is not mature. Blockchain, particularly, is being used in novel ways to validate transactions, drugs, inventory, etc. It will also vastly expedite traditional economic transactions, reducing the time from days to seconds. While this is good for legitimate business, eliminating delays remove the opportunity to rectify transactions that were criminally redirected. However, the distributed nature of the blockchain may present complications, especially related to validation. The blockchain will continue to evolve as more established companies adopt the technology. And, as a result, we are likely to see more issues related to blockchain arising in litigation. Regulation is emerging on a sector-by-sector basis. This is likely to cause problems similar to those experienced by other emerging technologies where inconsistencies and conflicts between authorities and legal regimens impose unnecessary frictional costs on transactions. Structural questions about who owns the exchanges and who and how rules will be enforced remain challenging. Although blockchain technology presents formidable security for data, it is dependent upon the inviolability of the data in the blockchain. This feature may encounter challenges when data subjects choose to exercise their privacy rights, including the right to be forgotten, now embodied in regimens like the GDPR and California's CCPA, which is being duplicated elsewhere in the United States.
Indispensable eDiscovery Counsel - Thirteen years after the Federal Rules were first amended to address the revolution in evidence caused by the digital information age, it is evident most attorneys do not have the inclination or expertise to master the nuances of data diversity, statistical methodologies to validate analysis of data, or the advanced math that drives the algorithms that make management of hundreds of gigabytes or terabytes of data possible. Conventional wisdoms that have grown up with ediscovery need to be re-examined in light of explosion in data volume and the emphasis more recent amendments to the Rules have placed on proportionality and changes to the ethical rules have placed on appreciating the role technology plays in delivery of legal services and how to apply it cost effectively. Practitioners will need to develop affiliations with attorneys who speak "Geek" and embrace the concept that reasonableness, not perfection, is required. Clients should focus on a cost benefit approach rather than trying to account for everything. Technology providers should be more than order takers and provide defensibility at every stage of the workflow. Budgeting should be based on what is at stake in litigation, or a transaction rather than focusing on the volume of data identified and multiplying it by the unit price for collection, ECA, processing, hosting, review, and production. Analysis of data in a case should not begin with collection of data from all likely custodians and winnowed through the ECA and review process. Rather, the focus should be on identifying the most critical custodian or data source and using what is gleaned from that data to determine what other data sources should be examined. Lessons learned from examination of the critical data source by AI tools should be applied to all subsequently acquired data and refined based on additional machine and human learning. Examination of data should stop when the cost reaches a level proportionate to the issues/value of the case. Data from opposing and third parties should be treated the same way, which means discussions at the outset of the case about formats, including metadata fields becomes more critical. Having "Geeky" conversations at the outset may save large volumes of time and money later.
All in all, it was an informative event with a number of valuable takeaways. We encourage you to check it out next year.