Legal and IT teams do not necessarily sit at the same lunch table (to use an over-simplified high-school analogy), however, organizations can quickly run into challenges when these teams are not aligned. As corporate data volume and types continue to grow at record speed, it is critical to maintain a technology infrastructure that is not only secure, but also satisfies the legal requirements for managing information. I recently had the privilege of chatting with Craig Shaver, the eDiscovery Program Director at Hilton Worldwide, about the challenges of this electronic data mosaic and innovative strategies to enable collaboration between these groups on the Law and Candor podcast. In this blog, I will review the key challenges we discussed as well as summarize three key solutions to overcoming them in the hopes it will help align your IT and legal teams.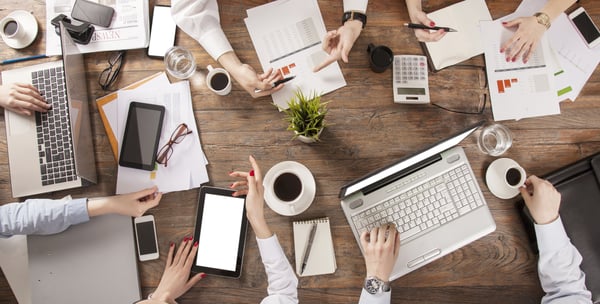 To level set, both teams have different priorities. Legal is generally focused on ensuring that the company's data is protected and retention policies are upheld, while IT is looking for new ways to manage the ever-increasing volume of data to drive efficiency while maintaining budgets. So, when IT moves forward with new technology solutions, large data migrations, moves to the Cloud, or even simple contractual agreements and is not in sync with Legal due to other priorities or lack of communication, items may be missed and can create large downstream issues such as potentially responsive documents going uncollected, being slapped with spoliation charges, or costly and time-consuming rework.
Nobody wants unforeseen charges or to loose time and money, so let's look at some solutions to overcoming these challenges by ensuring collaboration between these two teams. Begin by:
Establishing Legal Processes and Policies – Legal needs to first ensure they have effective legal hold processes in place, clear and consistent policies on data retention, as well as defensible deletion policies. Without these in place there is no formal process.
Ensuring Participation on Both Sides – It is important to identify and designate a legal and IT liaison to sit on various steering committees and be a part of any technology decisions, migration projects, etc. In some larger, global organizations, you may want at least two or three people from each group involved to attend these meetings, as it can be a lot of work and require travel. Legal will understand the impact on the overall ediscovery process and can review service-level agreements and SOWs as well.
Continuing the Ongoing Partnership and Communication – Post project, it is important to continue to meet regularly (weekly or monthly) with key stakeholders to continue to communicate around upcoming migrations, technology changes, etc., as well as build trust and a further develop relationships. Legal can help IT enforce their deployment and security policies with other departments within the company as well as ensure GDPR compliance and other factors are considered when looking at new products.
Enacting these three solutions will help you ensure your teams stay in sync. When legal and IT sit at the same lunch table and stay in communication, organizations are more likely to experience seamless or near-seamless integration of processes, better understand project timelines, reduce friction between very busy teams, maintain a shared understanding each other's workloads and processes, as well as gain trust amongst the teams, which helps with future projects and getting folks to support one another.
To discuss this topic more, reach out to me at bmariano@lighthouseglobal.com.